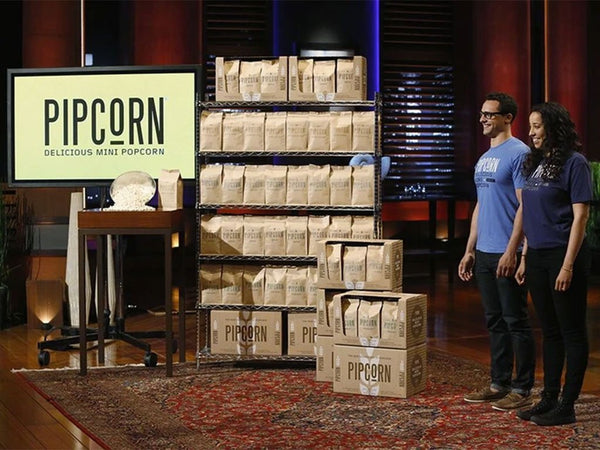 Looking Back on 5 Years Since Shark Tank
We can hardly believe it's already been five years since Pipcorn appeared on Shark Tank! Pipcorn has gone through a lot of exciting changes since then, especially in the past 12 months. We have new products, new packaging, a new website and new retail partners. 
But the truth is, we wouldn't be here with a full line of heirloom snacks without the constant support of our loyal fans—and so many of our fans came out of Shark Tank.
Pipcorn's journey really took off when our Mini Heirloom Popcorn made Oprah's list of Favorite Things in 2012. That earned us attention from Shark Tank, and we went through the audition process with them before deciding Pipcorn wasn't quite ready to face the Sharks. So we asked the producers to come back to us the following year, and we're so grateful they did. 
Below, Pipcorn co-founders Jen, Jeff and Teresa share exactly what was going through their heads before, during and after Pipcorn's Shark Tank appearance.
When Shark Tank first reached out to Pipcorn about coming on the show, what was your initial reaction? Did you ever consider not doing it at all?
Jeff: We were shocked! Like many entrepreneurs, we were big fans of the show, so it was one of those pinch-ourselves-are-we-dreaming moments to get a message from the casting agent asking if we'd be interested in trying out. 
Jen: We were beyond excited! It felt hard to believe. We actually turned them down the first time around because we didn't think our business was ready yet and we wanted a deal. It felt crazy, like, were we really telling Shark Tank 'it's not you, it's me' and to check back next year?! We were worried we might have lost our chance, but we knew it was the right decision. I will never forget when they emailed that next year. We knew our business was in a place to make a deal and we were thrilled! 
What was the process like preparing for your pitch? That has to be nerve-wracking.
Jeff: It's amazing how much time goes into a 3-minute pitch. Every word has to be chosen carefully and delivered perfectly. Preparing was nerve-wracking but nothing compared to delivering it in front of the Sharks!
Teresa: Given this was a once in a lifetime opportunity for our business, not getting a deal was completely out of the question so we wanted to be prepared for whatever twist or turn was going to come at us. We watched endless episodes of Shark Tank to see what types of questions the Sharks would ask and practiced as a group. We even adjusted our valuation right before walking out on stage and it paid off!
Did you know going in that you wanted to make a deal with Barbara Corcoran?
Jeff: Yes, there was no doubt in our minds. We wanted Barbara from the second this opportunity became a reality.
Teresa: Barbara was a no-brainer as she not only had the most food experience on the show at the time but also inspired us with her own rags to riches story!
Why do you think Pipcorn was able to close a deal when so many companies on the show aren't able to?
Jeff: We went on the show to close a deal, unlike many companies that go on to simply get exposure. We had one goal and didn't let up until we achieved it. We wanted a deal and strategic partnership with Barbara Corcoran.
Teresa: We told the truth! After filming, we went through a standard due diligence process with Barbara's team to make sure everything checked out.
Jen: We were ourselves, and we knew what we wanted, which was a deal with Barbara. While it sounds simple, I think people go on the show sometimes playing a character or wanting to impress the Sharks or just to be on TV. We went on confident in ourselves and our product, and grateful for the opportunity. I think sincerity is always something that shines through. Investing is half about the product and half about the people behind it, I think the faster the Sharks can get to know you the faster they are to make a deal.
What was it like watching yourselves on TV?
Jeff: Odd. Very odd. Honestly, I am forever thankful for the experience and it has done wonders for our brand, but I have a hard time watching our pitch!
Teresa: Jeff and Jen are naturals and the camera loves them! After many late nights prepping for Shark Tank and working to close our deal, seeing it air on national TV was life changing! Jeff set his phone on ringer so we would get a buzz every time an order was made. I can still remember the constant ringing that didn't stop all night and all day after the airing!
Jen: So weird! It was also very fun to see because pitching to the Sharks is unlike any situation you've ever been in before, so it is hard to remember everything so it was fun to watch and remember little details that we forgot in the excitement (anxiety?) of the moment.
How soon after your episode aired on Shark Tank did see an impact on your business?
Jeff: While it was airing! Orders were rolling in before we even said a word. To put it in perspective, in the 24 hours after we aired, we had 7,000 orders on our website. In the 3 months leading up to our airing, we had 26 orders…that's a pretty significant impact!
Teresa: Immediate! Shark Tank 100% changed the trajectory of Pipcorn and then we had the hard job of managing that growth and attention. Five years later, it's still adding value to our business! 
Jen: Immediately. The Shark Tank effect is REAL!