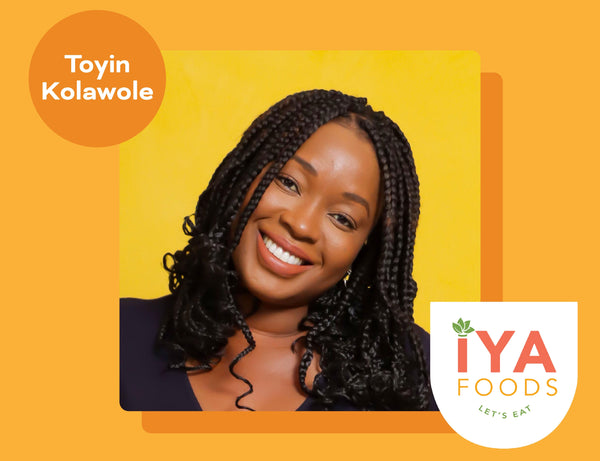 Black Founder Spotlight: Meet Toyin, Founders & CEO Of Iya Foods!
Once per month, we feature a Black entrepreneur on our blog and our social media as part of an ongoing effort to amplify awareness for Black-founded brands.
What is Iya Foods?
Iya Foods focuses on good food made with good ingredients. Our foods are delicious, nutritious, and created for ingredient-conscious consumers who are focused on overall well-being. As consumer demand for bold and exciting flavor grows, Iya continues to meet this demand by innovation through ingredients and snack technology. Our approach focuses on a food ecosystem that is sustainable, climate change resilient, and affordable.
What's the origin story of Iya Foods?
Food, family, and entrepreneurship were always at the center of my life when I was growing up in Lagos, Nigeria. After moving to the United States over 20 years ago, I was passionate about introducing my kids to the diverse, nutrient dense, plant-based ingredients that I grew up enjoying. Iya Foods started as a labor of love to provide new ways for my family to eat healthy. Now, I am so thankful that I get to share this love for those who are looking for nourishing options; made from good food and good ingredients.
How did you go from having an idea for a company to being a founder? What made you take the leap?
Iya started in my home, as a mum of two I was always looking for new and exciting ways to add ingredients I grew up with to everyday recipes such as pancakes and waffles. So I tapped into my Nigerian heritage for African Superfoods and good ingredients to add bold flavors and nourishments to foods. Everyone loved my recipes and it just grew from my kitchen to Iya Foods.
Where can we try Iya Foods? 
IyaFoods.com and Amazon. When on IyaFoods.com use code HOLIDAY10 for a discount on the delicious food!