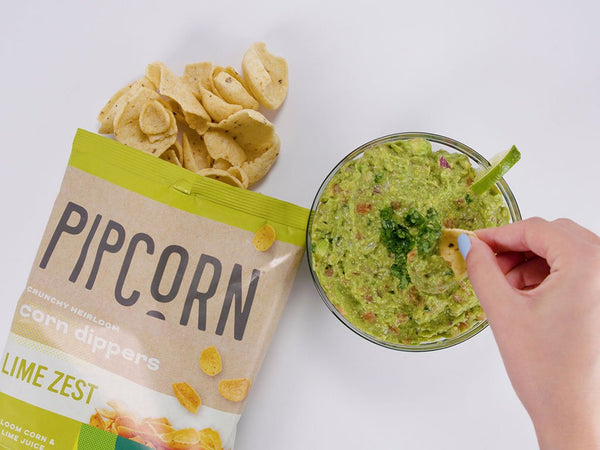 Super Charred Avocado Guacamole Recipe
It's Super Bowl weekend, which means we've only been thinking about one thing for the past seven days: what dips we're going to serve. After several days of eating guac basically nonstop, we've finally found THE ONE. Let us introduce you to charred avocado guacamole. It's spicy. It's smokey. It's absolutely irresistible with Pipcorn Lime Zest Heirloom Corn Dippers. 
Grilling the avocados before making the guacamole adds a whole new dimension of flavor that we can't believe we've been missing out on until now. We used a kitchen torch to do the charring because it was quick and easy, but if you don't have one you can also fire up the grill or hold the avocado over the open flame of a gas stove. If none of those are options for you, pop the avocado halves face up under the broiler for a minute or two (just be sure to watch them closely). 
We love our dips spicy, so we left the seeds and ribs in our jalapeños, but you can remove them for milder heat, or substitute one of the jalapeños for green pepper.
Charred Avocado Guacamole with Lime Zest Heirloom Corn Dippers
Ingredients
2 avocados
1 medium red onion, diced
2 jalapeños, diced
Juice from 1 lime
1 medium heirloom tomato, diced
Salt and pepper to taste
1 teaspoon fresh cilantro, chopped
1 bag Pipcorn Lime Zest Heirloom Corn Dippers
Directions
1. Cut avocados in half and remove pits. Lightly char avocado halves by holding the cut side over the open flame of a gas stove or grill, about 5 minutes. You can also use a kitchen torch.
2. Scoop charred avocados out of the skins and place in a small mixing bowl.
3. Add onion, jalapeños and lime juice. Use a fork to mash avocados and combine ingredients. Avocado should be slightly chunky.
4. Add tomato, salt and pepper to mixture. Stir gently to combine.
5. Transfer guacamole to serving dish and garnish with fresh cilantro. Serve immediately with Pipcorn Lime Zest Heirloom Corn Dippers.