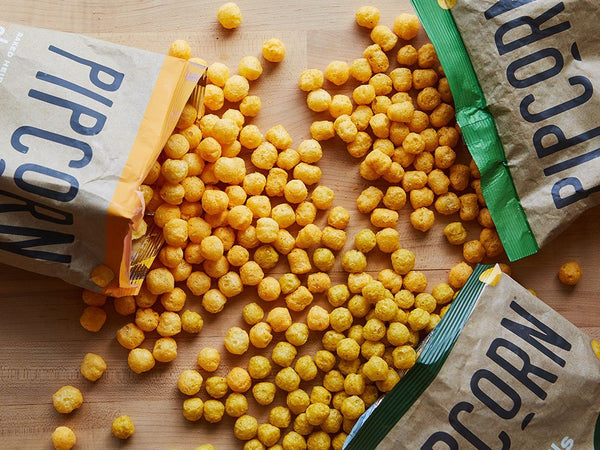 Good News: You No Longer Have to Feel Guilty About Craving Cheese Balls
When you're a grown up, why is it that it's still okay to eat macaroni and cheese without shame, but devouring a bag of cheese balls is something you're expected to grow out of by the time you're 20? Who made that a thing? 
We realized it was because mac and cheese had been updated but cheese balls hadn't. These days there are plenty of better-for-you boxed mac and cheese options made with real cheddar that taste like those orange noodles we begged for as kids. Cheese balls, on the other hand, were still dated. Everyone was making them with artificial colors and flavors and, frankly, just too many ingredients. 
We decided we didn't want to live in a world where being a responsible, health-conscious adult means feeling guilty about wanting cheese balls. So we made it our mission to make cheese balls out of ingredients that even a pilates instructor couldn't give the side-eye.
That's right: Pipcorn modernized cheese balls. Gone is the greasy GMO-filled corn oil, the fluorescent food dyes and the "cheez" that's made from who knows what. Instead we used non-GMO heirloom corn, organic cheddar cheese and a hint of natural color from paprika for the lightest, crunchiest cheese balls on the planet. We also bake them, because, well, none of us have the digestive system we did when we were 16.
We reinvented cheese balls because you deserve to not feel guilty about your snack choices. You deserve to feel like a kid again. You deserve better cheese balls.