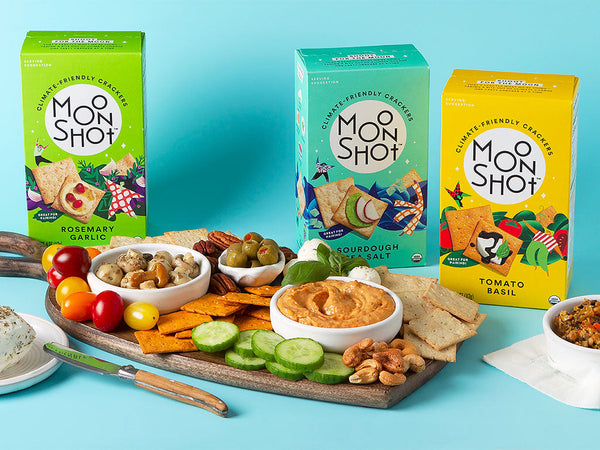 Meet Julia Collins, Founder & CEO of Moonshot Snacks!
Once per month, we feature a Black entrepreneur on our blog and our social media as part of an ongoing effort to amplify awareness for Black-founded brands.
This month, in honor of Earth Month, we spoke with Julia Collins, founder and CEO of Moonshot Snacks! We chose Julia because we're inspired by how she created a 100% climate-friendly snack brand!
What is Moonshot?
At Moonshot, we're taking a bite out of climate change. As the first climate-friendly snack brand, we keep the planet in mind with every decision we make, from seed in soil to the end consumer.
We use regeneratively grown ingredients to make our crackers, our supply chain is less than 100 miles, our crackers are produced in a LEED-certified facility, we use 100% recycled materials for our packaging, and our box is recyclable. What's more, we're certified carbon neutral at the product and company level!
Our first product, organic artisan wheat crackers, are available in three easy-to-love flavors, Sourdough Sea Salt, Rosemary Garlic, and Margherita Pizza! 
What is Moonshot's origin story?
 I created Moonshot as an act of love for people and the planet. When I gave birth to my first son, I went from being concerned about climate change to being absolutely obsessed with doing everything that I could to take action. There is no silver bullet solution to tackling climate change, but I knew that leaning into my passion for food would be the best way for me to make a real difference. More than a third of all greenhouse gas emissions come from food systems and land use, so I knew it was an impactful place to start.
With Moonshot, the goal wasn't just to create one product or one brand but really to create a climate-friendly food movement. I believe that all people have the right to take part in creating a healthier world. Moonshot creates an opportunity for snacks to tackle climate change with every cracker.
How did you go from having an idea for a company to being a founder? What made you take the leap?
I've been entrepreneurial my whole life and Moonshot isn't the first company I founded. I was fortunate enough to have parents and grandparents that started their own businesses, so the spirit was ingrained in me. Prior to Moonshot, I co-founded Zume Pizza and before that, I worked with the founding team at Mexicue, a Mexican-barbeque fusion restaurant in NYC.
When I became a mother, I began uncovering just how much food played into the climate crisis. Sitting at home snacking all the time with my little one, I imagined what the world might look like if all the things in my pantry and fridge were carbon neutral. I became determined to be a part of the climate solution, using the skills I'd developed throughout my career to leave the world a healthier, better place for my son. Now, more than three years later, I'm so proud of myself for taking the leap, as more carbon neutral and climate-friendly food brands join the movement!
Where can we try Moonshot?
You can find us in over 1,200 stores nationwide, including Sprouts, The Fresh Market, Wegmans, Raley's, Giant Food Stores, Foxtrot, Whole Foods in NorCal, and many more. And of course, you can snag a variety pack at moonshotsnacks.com. Our crackers are also available on Amazon Prime.