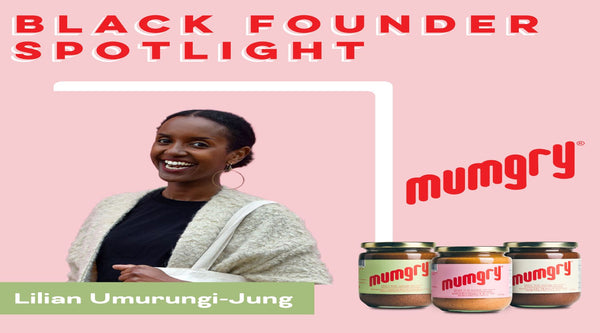 Meet Lilian Umurungi-Jung, Founder & CEO of MUMGRY!
Once per month, we feature a Black entrepreneur on our blog and our social media as part of an ongoing effort to amplify awareness for Black-founded brands.
What is MUMGRY? 
MUMGRY takes the guesswork out of snacking. We make delicious plant-based snack foods using only the good stuff. We invite everyone to taste and fall in love with our nutritious, versatile and all natural nut butters available in three unique varieties: smooth peanut butter, dark chocolate peanut butter and the first ever pistachio chocolate almond butter. A natural source of protein, MUMGRY is most enjoyed on toast, in smoothies, with fruit, breakfast bowls, savoury sauces, by the spoonful and just about every dish that you are nuts about!
What's the origin story of MUMGRY?
MUMGRY was created out of necessity. While grocery shopping hungry and pregnant with my son I noticed a lack of snacks that considered the dietary restrictions and needs of women during pre-pregnancy, pregnancy and beyond.
Finding delicious snacks that supported my health and the growth of my baby was challenging. Reading labels and deciphering if snack products were good or bad was time consuming and took all the fun out of eating for 2! Will this cause heartburn? Is it low in sodium and sugar? Does it have protein? Is it rich in vitamin D, omega 3, iron and calcium? Is it yummy?
At 3 weeks postpartum, I began "snack prepping" to stay nourished and energized. Homemade healthy snacks became my saviour between meals. After a few tasty experiments MUMGRY was born.
How did you go from having an idea for a company to being a founder? What made you take the leap?
During postpartum the company I was working for unexpectedly shut down and I lost my job. Now or never rang through my mind and I made the decision to make MUMGRY go from a dream to a reality. I used my severance to fund the business and we have never looked back since and continue growing our nutty business.
Where can we try snacks?
MUMGRY can be found on MUMGRY.com, GoPuff, FOXTROT and hundreds of shops and cafes across North America. Join our conversations @mumgry