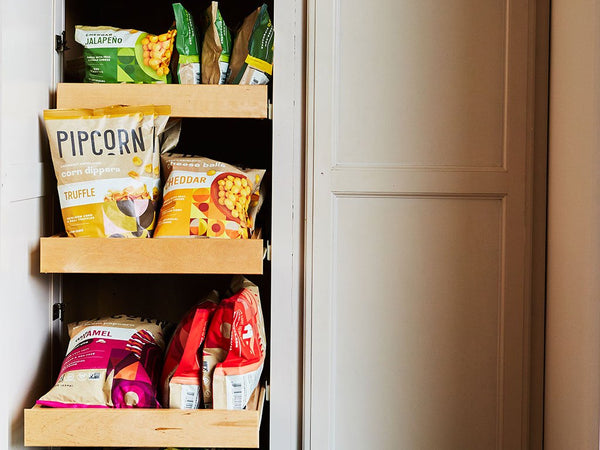 Pantry Prep Is the New Meal Prep!
A recent Harvard study said "the happiest people have more time and less money." It went on to say the thing we all know: that money doesn't make you happy, time does. Having time to spend with friends and family, having time to yourself and having time to relax, etc. While that doesn't intrinsically have anything to do with food, we are professional snackers, so everything kind of has to do with food. We thought, snacks make us happy, but how can they make us happier? 

We all want to have enough time to grocery shop, cook meals and put them into perfect containers that we label for each day so that during the week we can grab one and go. But that takes a lot of time, and a lot of the pleasure out of cooking. So while it is supposed to help you slow down during the week, Sundays are getting jam packed like a work day. That got us thinking, if we pantry prep, we'll have less chore-time and be stocked with healthy snacks that keep us full and happy in-between meals. So we decided to give ourselves the challenge: instead of having stressful Sundays or Sundays filled with guilt for not meal prepping, what if we just pantry prepped?
The goal would be getting stocked with healthy on the go options that make us feel great and would turn cooking meals during the week into relaxing moments, or dinners with the people we love the most. We started noticing within the first week, instead of getting home from work STARVING, not having the energy to cook and just ordering take out, we started eating healthy snacks on the way home and by the time we got home, we could unwind, and enjoy cooking. We noticed that we didn't need to eat up our Sundays with another chore. Instead we could fully relax for the entire weekend and have our weekday nights as moments we could share with friends and family or have more time to just be/do/cook/eat/relax.


The key for us was having the right snacks. Snacks that don't make you feel bad after you eat them, packed with whole grains and heirloom ingredients. Another key was having a variety of snacks so we didn't get sick of any one in particular. Luckily we knew just where to find them. We had baked cheese balls, mini popcorn and corn dippers all in a bunch of flavors, so we were well stocked! Because we love color (have you seen our new bags!!) we decided to organize our cabinets by color and put the open bags in containers or closed tightly with chip-clips. It gave us the same accomplished feelings as meal prep but was way less time consuming and way prettier to look at! (Also, if you are like us, check out #pantryorganization on instagram to see some drool worthy inspo!)
Result? These mini-meals replaced our meal prep chores which gave us a little more time in each day and we have to say...we did feel happier.