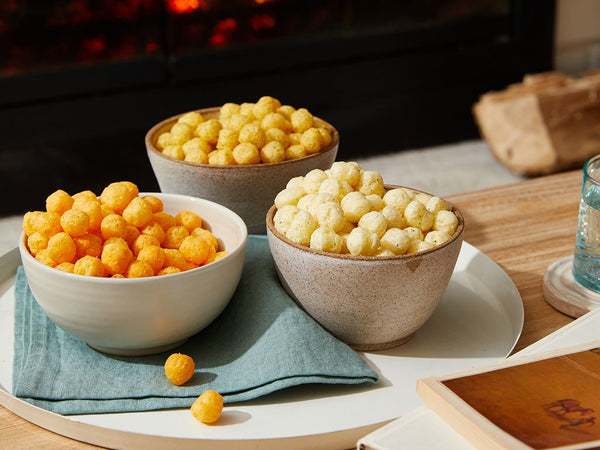 5 Things That Will Make You Love Pipcorn Cheddar Cheese Balls
Want to know what's so unique about our Cheddar Cheese Balls? We'll let you in on a little secret: it's because we designed them to be kid-friendly AND grown-up-friendly. These are cheese balls for the modern era.
"We weren't really allowed to eat cheese balls as kids, but we loved them. So now that we're adults and run a snack food company, we knew we needed to bring cheese balls back with ingredients we felt good about...and that our parents would approve of," said Jen Martin, Pipcorn co-founder.
So what makes our cheese balls so special? Let us count the ways...
1. They're made with heirloom corn (naturally!)
Like all our snacks, we make our cheese balls with non-GMO heirloom corn. In this case, it's our mini popcorn kernels. 
"The kernels are so small and delicate we're able to grind them up into corn flour and turn them into cheese balls," Jen explained. 
Pretty cool, huh? 
2. They're made with organic cheddar and natural color
We didn't mind "cheez" as kids, but now that we're well past age 16, it just doesn't do it for us anymore. We've gotta have the good stuff, and for us that means real organic cheddar. You'll love it, your mom will love it and your kids will love it. Oh, and that signature orange hue comes paprika, not a laboratory, so nothing to worry about there.
3. They're baked, not fried
Baking our cheese balls keeps them light, airy and crispy. It's all about that texture! 
4. There are 114 cheese balls in every serving
Yes, you read that right: there are 114 cheese balls in every serving. Baking the cheese balls, plus using high-quality ingredients, lets us MORE THAN TRIPLE the serving size of our competitors for the same amount of calories.
5. They come in 4 different flavors!
Yes, four flavors! We couldn't stop with just our classic Cheddar Cheese Balls, though they're pretty dang delicious too. So we kept experimenting and decided to add Jalapeño Cheddar, Broccoli Cheddar and Cacio e Pepe to our cheese ball family!
"The flavors are my favorite thing about our cheese balls! Our Jalapeño Cheddar Cheese Balls are ACTUALLY spicy and made with real jalapeños. Our Broccoli Cheddar Cheese Balls taste broccoli cheddar soup and, you guessed it, are made with real broccoli! And the Cacio-e-Pepe Cheese Balls are so delicious with organic parmesan and cracked black pepper. I feel really proud that we made delicious flavorful options without compromising on ingredients," Jen said.