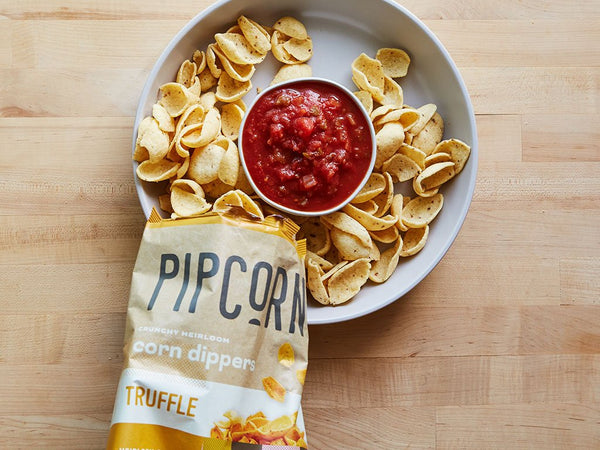 Truffle Heirloom Corn Dippers Are a One-of-a-Kind Chip
When we decided to make our Heirloom Corn Dippers, we knew immediately that we had to do a truffle version. Truffle has been Pipcorn's signature flavor ever since we launched our Truffle Mini Heirloom Popcorn (one of Oprah's favorites!) way back in 2012, and we couldn't pass up the opportunity to make more truffle-y snacks! 
We admit, truffle is a pretty unusual flavor for a corn chip, but it 100 percent works. The flavor is subtle and savory, adding just a little somethin' extra for your tastebuds to relish in. 
We have so much love for these chips that it's hard to articulate exactly how they make us feel—you really just need to try 'em. But if we had to put it on paper, here's what we'd say...
1. They're made with real truffle. 
We don't know about you, but we think artificial flavors always leave something to be desired—to put it nicely. So we don't use them. Ever. Our truffle flavor comes from 100-percent real truffles, the way Mother Nature intended. 
2. They're vegan.
That's right, no dairy or animal products here! In fact, we make Truffle Heirloom Corn Dippers with just four very simple ingredients: heirloom corn, non-GMO sunflower oil, sea salt and truffle. End of story.  
3. They're the life of the party.
Whether it's game day or a birthday, these chips are always ready to party. Your guests won't be able to stop eating them no matter how you serve them, alone or with a dip...which brings us to point number four.
4. They go with any kind of dip.
You might think that the truffle flavor limits what kinds of dips you can pair with these chips, but you'd be wrong. In fact, we've yet to find a dip that Truffle Heirloom Corn Dippers don't compliment—spicy salsa, queso, guacamole, hummus, spinach artichoke, you name it! This avocado hummus is definitely on our short list, though.
5. They're whole grain.
Whole grain isn't just for your morning cereal. These chips prove that whole grains can be a downright irresistible snack! In fact, it's the whole-grain heirloom corn that gives these chips their one-of-a-kind light and crunchy (yet remarkably) texture.