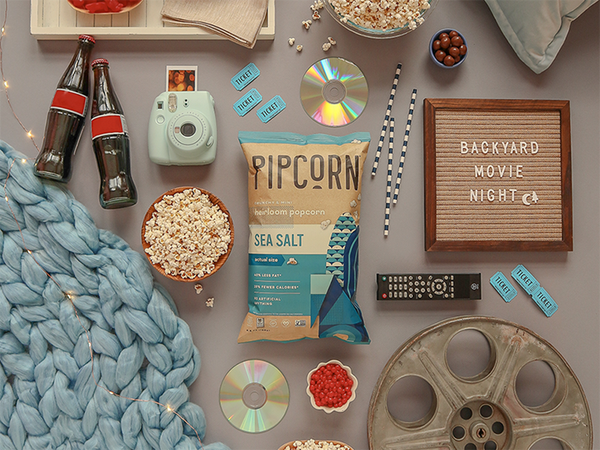 5 Essentials (Including the #1 Snack!) for a Comfy Outdoor Movie Night
Got a free Saturday night, perfect summer weather and no place to be? Round up your friends and neighbors for a backyard movie night! Of course you'll need a TV or projector and a film everyone can agree on, but once you've got the technicalities down, it's time to get comfy! Here's everything you need for a perfect movie night in your backyard.
1. Popcorn!
Junior Mints and Raisinets are excellent movie snacks, but we can make do with out them. But we are absolutely not pressing play until we've got a bowl of popcorn on our lap! Our Mini Heirloom Popcorn is so flavorful and crunchy you won't miss that "movie theater butter" flavor one bit. Sea Salt is classic, and Truffle adds an irresistible savory flavor that will have you snacking through the end credits. Make sure you've got a few extra bags!
2. Your favorite soda pop or ~adult beverage
Popcorn makes you thirsty, of course, so you're going to need drinks. Instead of sugary sodas, these days we're all about equally delicious, gut-friendly alternatives like Olipop and Poppi. For the 21+ crowd, we love a hard kombuca like Juneshine or some local craft cider.
3. Cozy blankets
Even if it's still 80 degrees at 8 PM, a cozy blanket is a must for outdoor movie comfort. Curl up on the grass with it, or drape it over your lawn chair for an extra cushy seat. 
4. Pillows
Re-create couch-levels of comfort in your backyard by bringing every pillow you own outside and piling them on top of your cozy blankets. Lounge like a royal.
5. Pajamas
Throw on your favorite extra large tee and stretchy pants and get comfy. This night is all about relaxing, and you can't do that in jeans!