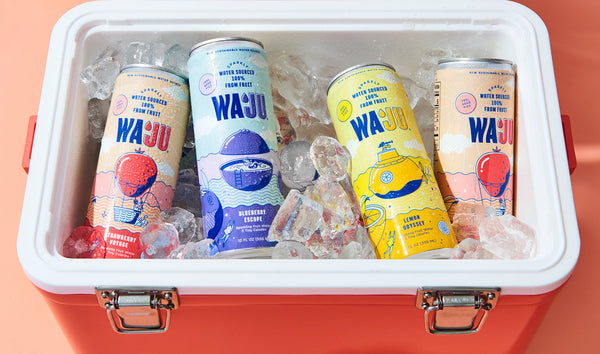 Black Founder Spotlight: Q&A with Chris Oates, Founder & CEO of WAJU
Once per month, we'll be highlighting a Black entrepreneur on our blog and our social media as part of an ongoing effort to amplify awareness for Black-founded brands.
 To kick things off, we spoke with Chris Oates, founder and CEO of WAJU! We chose Chris for our first spotlight because we were inspired by how he is upcycling a leftover ingredient to make something delicious!
What is WAJU?
WAJU is the world's only sparkling water made 100% with water saved and upcycled from organic fruit.
All three of our real-fruit varieties (Lemon Odyssey, Strawberry Voyage, and Blueberry Escape) are high in antioxidants and vitamin C, have absolutely no added sugar, and have only five tiny calories per can! I found an opportunity to merge healthy delicious hydration with upcycled sustainability, which is what makes WAJU truly special.
What's the origin story of WAJU?
The idea really stemmed from a desire I had for a more naturally refreshing sparkling beverage that offered nutrient benefits beyond basic hydration. I'm also big into optimizing my personal wellness goals, and at the time, I had just finished reading an article about "eating your water." It was about how you can dial up your hydration and essential vitamins by eating water-rich fruits such as strawberries and melons, which are about 90% water. However, the article warned not to eat too much fruit because it has a lot of sugar. 
Shortly after, I was walking through the produce section of the grocery store surrounded by beautiful colors of fruit. I wondered if there was a way to extract that pure, naturally occurring water straight from fruit but leave behind all the sugar. That was my aha moment.
How did you learn that so much water is discarded in the juice-making process, and what made you think it would be a good beverage?
It wasn't until I started looking into how to remove water from fruit that I realized this is exactly what fruit concentrate suppliers do every day. So I started calling around to fruit concentrate suppliers across the country and found that not only were they generating massive amounts of this water from fruit, but they were discarding it as a byproduct. That's when I realized that this was an opportunity to create a product that not only solved a consumer need but also could serve a greater purpose of an environmentally friendly water resource that would not deplete our dwindling underground water supply. 
Water is life and our mission is to create products that bring joy and inspire incredible solutions to water scarcity.
How did you go from having an idea for a company to becoming a founder? What made you take the leap?
I've always kicked around ideas of various businesses but never felt like I had THE big idea worth taking the leap for. It wasn't until I realized that I had a product idea that fulfilled a consumer need and a societal issue of water sustainability that I decided to go for it. Plus, I have an excellent mentor who pushed me. He told me that there's no better time than now to bet on myself and, after years of developing new products for one of the world's largest beverage companies, I decided it was time to steward my own idea. 
Where can we try WAJU?
We sell WAJU on our website and Amazon. In the Mid-Atlantic region, you can also find us in all 22 MOM's Organic Market locations. It's our first retailer! We're super proud to be associated with an organic grocer focused on environmental purpose, such as being the first to feature an upcycled products display. Hopefully soon you will also be able to find WAJU in other natural and purpose-driven retailers across the US!