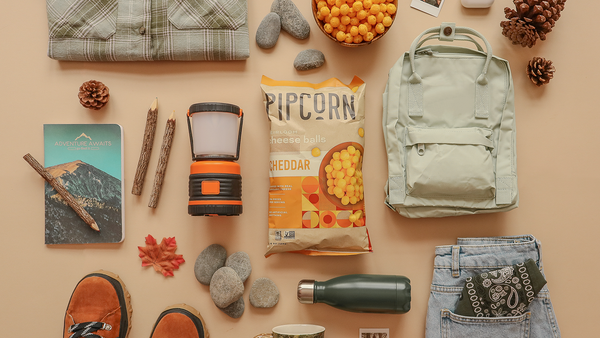 Best Snacks to Pack for National Parks Hiking & Camping!
Ah, the great outdoors! If there was ever a summer we're itching to get out of the house, it's this one. Obviously we're packing marshmallows and graham crackers for s'mores, but when we've had enough sweets around the campfire, or granola bars for our hikes, White Cheddar, Jalapeño and Cheddar Cheese Balls are our go-to snack.
Here are our top five favorite national parks to visit – just don't feed the wildlife 😉
1. Yellowstone National Park
Location: Mostly in northwest Wyoming, with small parts in Montana and Idaho
Main attractions: Old Faithful geyser, Great Prismatic Spring, Mammoth Hot Springs, Grand Canyon of the Yellowstone
Best spot for a cheese ball break: While you're waiting for Old Faithful to erupt.
2. Zion National Park
Location: Utah
Main attractions: Zion Canyon Scenic Drive, Zion-Mount Carmel Highway, Weeping Rock
Best spot for a cheese ball break: When you're taking in the views at the Checkerboard Mesa 
3. Yosemite National Park
Location: California
Main attractions: Yosemite Falls, Half Dome, El Capitan, Glacier Point
Best spot for a cheese ball break: While taking a break on the mirror lakes trail
4. Glacier National Park
Location: Montana
Main attractions: Going-to-the-Sun Road, St. Mary Lake, Lake McDonald, Logan Pass
Best spot for a cheese ball break: While taking in the sights on a Red Bus Tour
5. Bryce Canyon National Park
Location: Utah
Main attractions: Sunset Point, Navajo Trail, Bryce Point, Peek-A-Boo Loop 
Best spot for a cheese ball break: When you stop for a rest on the Peek-A-Boo Loop