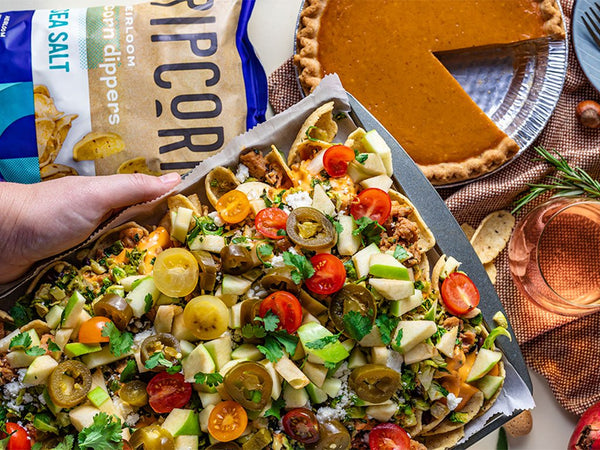 Recipe: Loaded Autumn Nachos with Pipcorn Dippers
We love making nachos with our Heirloom Corn Dippers and fresh heirloom veggies every summer. And guess what? You can still do it for the big Thanksgiving game or any fall activity where you need an out-of-this-world snack. Just swap the avocado for Brussels sprouts and toss on some Granny Smith apples for some seasonal heirloom flavor! 
Ingredients:
2 cups of shredded Brussels sprouts
Salt and pepper to taste
2 tablespoons of olive oil (divided)
1 pound chicken sausage
1 teaspoon ground sage 
½ teaspoon chili powder 
¼ teaspoon ground allspice 
1 bag Pipcorn Sea Salt Corn Dippers 
1 can black beans, drained 
½ cup cashew queso 
2 Granny Smith apples 
½ cup cheese crumbles 
½ cup of Heirloom tomatoes
¼ cup pickled jalapeños 
Directions:
For the Brussels sprouts:

Heat a large skillet over medium-high heat. Add 1 tablespoon of oil and heat until shimmering. Add Brussels sprouts and season with salt and pepper. Cook, stirring occasionally, until wilted and browned in spots, 5 to 7 minutes. Remove from the heat.

For the sausage:

Add remaining oil to a skillet and heat over medium-high heat until shimmering. Crumble the sausage into the pan. Add the salt, sage, chili powder and allspice and cook, breaking apart the sausage with a spatula, until browned, about 8 minutes. Remove from the heat.

For the nachos:

Spread chips in an even layer on a serving platter. Top with the black beans, brussels sprouts, cashew queso, chicken sausage, apples, cheese crumbles, pickl

ed jalapenos, and heirloom tomatoes and serve immediately. Enjoy!