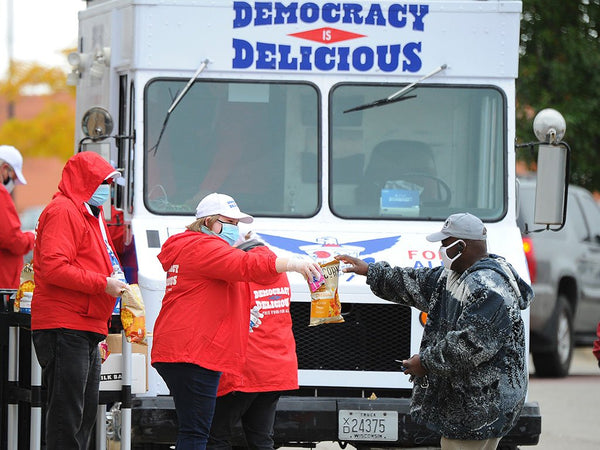 We're Partnering with Pizza to the Polls!
If this crazy year left you feeling like there's so little you can do to control the future, you're not alone. But the one really big thing you can do is vote for the people who will fight for the things you value and help build the future you hope to see.
And if you find yourself standing in a really long line to cast your ballot, Pizza to the Polls may show up with a delivery of pizza—and Pipcorn!
Pizza to the Polls is a nonpartisan, nonprofit organization with a simple goal: feed people in crowded polling locations. This year Pizza to the Polls is deploying 185 food trucks in 25 major cities where long voting lines are expected, and Pipcorn Cheese Balls will be on almost all of them!
We hope to bring a little joy to hungry people waiting to cast their ballots, poll workers, and anyone else who might need a snack! 
If you're not in any of the 25 cities where the Pipcorn-stocked food trucks will be running, don't worry! Pizza to the Polls' signature program, on-demand delivery, is still available. 
No matter where you are, you can report a long polling line by either tagging @PizzatothePolls on social media or sending a message on the website polls.pizza. A volunteer will then verify the line via social media and dispatch a food truck or local pizza delivery partner at no cost to the people at the polling location!
If you'd like to donate to help send more food to polling locations, visit pizza.polls! Or, send a friend some Pipcorn snacks with free shipping! Use this code at checkout: VOTE2020
(Code expires October 25, 2020 at 11:59 p.m. EST.)