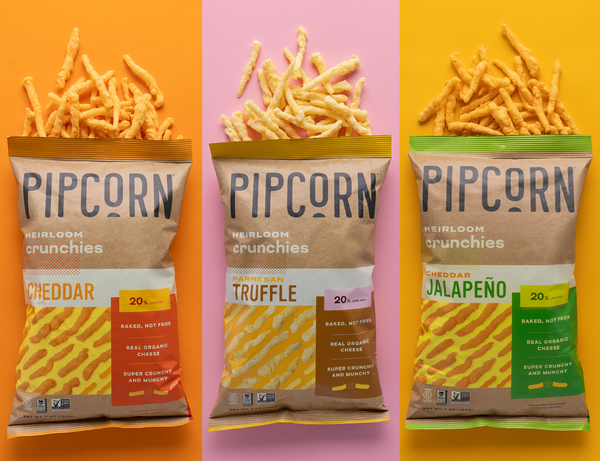 Are They Curls? Are They Puffs? No, They're Heirloom Crunchies!
Yep, we've got ANOTHER amazing new snack, and we can't wait for you to try it! Pipcorn Heirloom Crunchies are here! 
What are Heirloom Crunchies, you ask? They're sort of like mini cheese curls, but crunchier (naturally), with a craveable texture thanks to our signature heirloom corn.
And what is heirloom corn, you say? Only the most delicious, flavorful corn you'll ever taste. It's an old variety that's been around since before commercial farming took off in the 1940s. The seeds are saved and passed down from one generation of farmers to the next, and they're selected for taste and quality, rather than yield. And when you grow superior corn, you can make superior—and crunchier!—snacks.
"We loved cheese crunchies as kids, but our parents rarely let us have them because they were so bad for us," said Jen Martin, co-founder of Pipcorn. "Our Heirloom Crunchies have simple ingredients and they're actually irresistible, so we know parents and everyone else can feel good about sharing them!"
Things to love about our new crunchies:
The ingredients are simple and delicious
Per usual, we only use deliciously simple ingredients to make our crunchies. We're talking heirloom corn (duh), organic cheese and natural color extracted from paprika and annatto (fun fact: a reddish tropical fruit), plus honest-to-goodness flavors from real jalapeño and black truffle. 
Oh, and just about everyone can enjoy 'em because they're also non-GMO, whole grain, gluten-free, soy-free and cholesterol-free!
They come in 3 great flavors
You know we can never just do one flavor of anything! For crunchies we've got three:
Jalapeño Cheddar  — Do you crave snacks that are actually spicy? When you see jalapeño on the bag do you want it to actually taste like a jalapeño? Well, you're in luck because these Jalapeño Cheddar Crunchies are flavored with the real deal for a kick that's no joke. 
Truffle Parmesan — Yes, we fancy. We classed up our favorite '90s after-school snack with real black truffle oil and organic parmesan cheese. Pairs equally well with wine or video games.
Cheddar — Classically cheesy and crunchy. We use real organic cheese, not some fake cheese powder, and the heirloom corn gives our crunchies an ultra-satisfying crunch. You're welcome.
You can feel good about snacking as much as you want
Our crunchies are baked (not fried!) so they've got fewer calories and less fat than the competition! Specifically, we're talking 20% less fat for the Cheddar and Jalapeño Cheddar, and 10% less fat for Truffle Parmesan. All three have 13% fewer calories than the leading competitor. (And word on the street is they've got 100% more flavor, too.) Crunch on.
You can try 'em today!
Intrigued? Want to give our crunchies a try? You can find all three flavors on our website now! Jalapeño Cheddar and Truffle Parmesan are currently rolling out in all Whole Foods Markets, and you can find Cheddar available in the Weight Watchers shop!