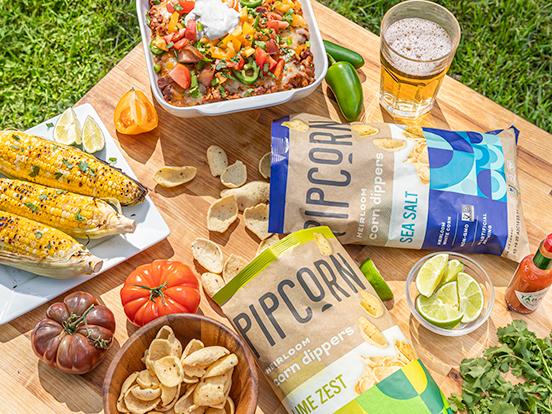 Celebrate Labor Day with Our Famous Chili Cheese Dip
Whether you're spending the unofficial last weekend of summer kicking back for some much deserved me-time or hanging with the family, this chili cheese dip is the perfect accompaniment. It's hearty and satisfying, and makes the most of your homegrown heirloom tomatoes and peppers. Made with ground turkey, beans, jalapeños, bacon and, of course, plenty of cheese, this is the father of all dips. Enjoy!
Ingredients
1 pound ground turkey
2 tablespoons extra virgin olive oil
Sea salt to taste
1 small onion, diced
1 green bell pepper, diced
1 tablespoon light chili powder
1 ½ teaspoons cajun seasoning
1 teaspoon garlic powder
½ cup chicken broth
¼ cup heavy cream
¼ cup cream cheese
1 (15.5-ounce) can cannellini beans
1 tablespoon fresh cilantro, chopped
¼ cup shredded cheddar jack cheese
1 fresh jalapeño pepper, sliced into very thin rings
4 slices thick-cut bacon
3 scallions, chopped
2 heirloom tomatoes, diced
½ cup sour cream
1 - 2 bags Pipcorn Corn Dippers (we recommend Lime Zest or Sea Salt)
Directions
Heat oven to 350 F.

While oven heats, heat a large skillet over medium heat.

Add olive oil, ground turkey and a pinch of salt. Cook until browned.

Add onion, bell pepper, chili powder, cajun seasoning and garlic powder. Cook 1 minute more.

Add chicken broth and heavy cream to the skillet and bring to a boil, stirring constantly.

Reduce heat to low. Mix in cream cheese, beans and cilantro. Stir until cream cheese is melted and combined. Then remove from heat.

Transfer skillet contents to an oven-safe baking dish. Top with cheddar jack and sliced jalapeño.

Lay bacon flat on a baking sheet.

Place bacon on the top oven rack and dip mixture on the bottom. Bake both for 15-20 minutes, until bacon is brown and crispy and the dip is bubbly and cheese is melted.

When finished cooking, allow bacon to drain and cool on a paper towel-lined plate for several minutes.

Crumble bacon and sprinkle on top of dip along with scallions and tomatoes. Add dollops of sour cream.

Serve while still hot with Pipcorn Corn Dippers.