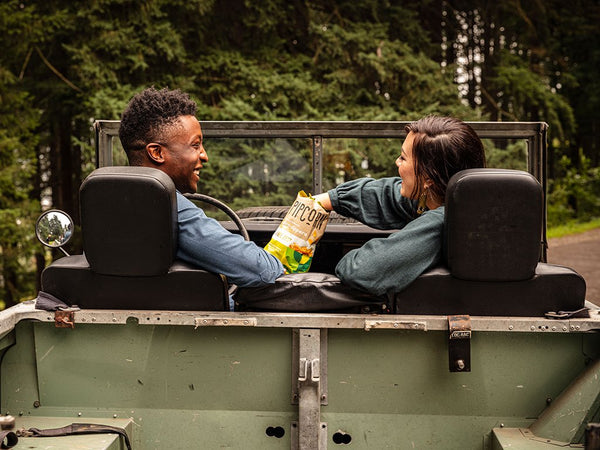 10 Best Road Trip Snacks Adults and Kids Will Love
You've got a playlist of your favorite tunes cued up, your kids' favorite podcast is downloaded and your center console is packed full of hand sanitizer and tissues. It's time for a road trip! The only thing that's left to grab before you head out the door is the snacks. If you're looking for some healthy-ish treats to pass around the car as you play 20 Questions, read on for our favorite better-for-you road trip snacks for kids and adults.
1. Pipcorn Heirloom Cheese Balls
Try an updated version of one of your favorite childhood snacks—one that won't leave smears of orange all over your steering wheel! We make our cheese balls with all natural color from paprika, organic cheddar cheese and sustainable heirloom corn. And with 114 baked cheese balls per serving, this is a road trip snack you can munch on for miles at a time.
2. Homemade trail mix
We always prefer homemade trail mix over store-bought because you can customize it to suit your tastes. The key to making a trail mix you'll want to snack on for multiple days in a row is equally balancing the salty ingredients (nuts, seeds, popcorn, roasted chickpeas) with the sweet ingredients (dried fruit, coconut flakes, chocolate pieces). For longer road trips, make a few batches of trail mix with different ingredients so you don't get bored. If you're traveling with kids, get them involved in the trip preparation and let them each make an individual bag of trail mix with all their favorite ingredients. 
3. Freeze-dried fruit
Freeze-dried fruit is just as nutritious as fresh fruit, and it's full of fresh-picked flavor because the sugars become more concentrated when moisture is removed. It's also incredibly convenient for road trips since it doesn't need to be kept in the cooler like fresh berries do.
4. Yogurt-covered almonds
Yogurt-covered almonds are a sweet pick-me-up for when you feel your blood sugar crashing and there's no highway exit for miles. They've got sugar for energy and protein to take the edge off your hangry mood until you can make a pit stop.
5. Beef jerky 
Beef jerky can be a great healthy snack on the road—as long as you're not buying a brand loaded with sodium, MSG and other questionable ingredients from the rest stop convenience store. Instead get a naturally-cured, nitrate-free jerky made with grass-fed or organic beef to fuel your trip—you might even be able to find one from a local farmer at your farmers' market.
6. Fruit strips
Pack a better-for-you version of one of your favorite lunchbox snacks from elementary school for your next car trip. We're pretty sure both the kids and adults will be fighting over these. Look for fruit strips or fruit leather made with real organic fruit juice and zero artificial colors or flavors.
7. Sunflower seeds
Roasted sunflower seeds are high in healthy fats and antioxidants, including vitamin E and selenium, which helps protect cells against free radicals. They are also just really delicious and a great snack when you're on the road. 
8. Pipcorn Heirloom Crackers
Bite-sized crackers are great for road trips because it's easy to grab a handful at a time and pass the box around the car. Our Heirloom Snack Crackers are perfect for exactly that. They come in flavors both kids and adults will love—cheddar, everything bagel and sea salt—and they're made for munching with a generous serving size and 50 percent less fat per serving than the leading competitor.