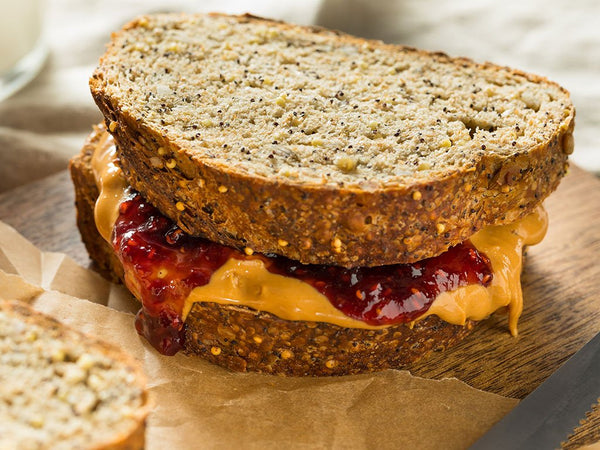 11 Perfect Pipcorn Snack and Sandwich Pairings for Lunch Packers
Are you facing down another week's worth of the same old brown bag lunches? Fear not, Pipcorn is here to help make your lunch hour exciting again (and keep you away from the office vending machine). We paired each of our delightfully satisfying, better-for-you snacks with our favorite easy sandwiches to help you up your lunch packing game. These combos are so good you may even want to enjoy them on weekends too!


PB&J w/ Sea Salt Mini Popcorn
Peanut butter and jelly sandwiches and Sea Salt Mini Heirloom Popcorn are two lunchbox staples that pair perfectly for a satisfyingly sweet and salty midday meal. Our ideal PB&J sandwich? Fresh whole grain bread, a natural peanut butter like Wild Friends, and homemade raspberry jam.


Greek Pita Sandwich w/ Truffle Mini Popcorn
We're crazy about pita pockets. They're easier to handle than wraps without all the carbs of bread. They're also super easy to stuff with a Greek salad of cucumber, cherry tomatoes, lettuce, feta, olives and vinaigrette. Pro tip: pack the salad and pita separately and assemble at lunch time to avoid a soggy pita. We pair this one with Truffle Mini Heirloom Popcorn because the savory truffle flavor goes beautifully with the salty feta and olives.


Brie and Pear w/ Kettle Mini Popcorn
We love a standard cheese sandwich as much as anyone, but sometimes the work day feels a little brighter when you've got an amazing lunch to look forward to. So let us introduce to you a sandwich that's easy to make but feels like you bought it from a Parisian cafe: thick-sliced brie, sliced pears, and a smear of honey mustard in a crusty baguette. The salty and sweet combo of cheese and pears is an excellent compliment to salty and sweet Kettle Mini Heirloom Popcorn.


Bacon, Egg & Cheese w/ Vegan Caramel Mini Popcorn
Okay, this isn't a lunch, but we love the idea of homemade freezer-friendly breakfast sandwiches that you can heat up in the microwave on your way out the door or as soon as you get to work. We also love how a savory breakfast sandwich tastes even better with a handful of sweet and decadent Vegan Caramel Mini Heirloom Popcorn on the side. Morning bliss!


Avocado, Lettuce and Tomato Wrap w/ Cheddar Cheese Balls
When it doubt, make it avocado. This easy wrap, with a drizzle of homemade ranch dressing, is always healthy and saitiating. It pairs perfectly with Cheddar Heirloom Cheese Balls—two classics, both simple, light and delicious. And if you're not vegetarian, might we suggest adding bacon? 
Curry Chicken Salad w/ Jalapeño Cheddar Cheese Balls
For the days when you think you just can't eat that same old packed lunch one more time, there is curry chicken salad. We like Gimme Some Oven's recipe, with Greek yogurt instead of mayo, fresh grapes, a squeeze of lemon juice and, of course, curry powder. This is not your grandma's chicken salad, and Jalapeño Cheddar Heirloom Cheese Balls, with real cheese and a spicy finish, are not your grandma's cheese balls.
Tuna Salad w/ Broccoli Cheddar Cheese Balls
People like to hate on tuna salad, but we couldn't get through the work week without it. It's so easy to prepare in advance and affordable enough to eat week after week. We like to pair it with some airy, crunchy Broccoli Cheddar Heirloom Cheese Balls for an extra pop of flavor and texture.
Caprese w/ Cacio e Pepe Cheese Balls
During the summer months, when fresh heirloom tomatoes are in season, you can't go wrong with a caprese sandwich on a crusty baguette. The simple flavors of garden tomatoes, mozzarella and basil create something magical when they all come together. Cacio e Pepe Heirloom Cheese Balls, inspired by another great Italian staple, are the same way—you'd never expect parmesan and cracked black pepper to taste so good.
Vegan Chickpea Salad Sandwich w/ Sea Salt Corn Dippers
This vegan sandwich checks all the boxes: easy, healthy, delicious and filling. We follow Minimalist Baker's recipe, which is easily doubled to make a week's worth of lunches all at once. This sandwich is so flavorful, we decided to pair it with a side that always plays nicely with others, Sea Salt Heirloom Corn Dippers, which also happen to be vegan.
Ham and Swiss w/ Truffle Corn Dippers
Ah, ham and cheese, the old standby. Where would we be without it on busy mornings? We like to make ours with thick-sliced sourdough and a generous amount of whole grain beer mustard. This is a sandwich that will never let you down when your stomach is growling, exactly like our Truffle Heirloom Corn Dippers, whose savory flavor makes this workaday chips-and-sandwich combo feel brand new. 
Green Goddess Hummus Sandwich w/ Lime Zest Corn Dippers
Veggie sandwiches that are both delicious and filling can be hard to come by, but this recipe from Cookie + Kate knocks it out of the park. The pickled veggies make what would otherwise be an ordinary sandwich hands down amazing. It's a light and bright lunch, the perfect pairing to our light and bright Lime Zest Heirloom Corn Dippers.