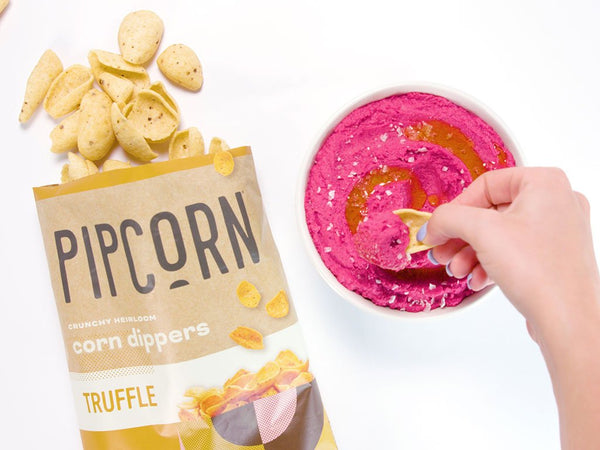 Our Favorite Roasted Beet Hummus Recipe
Pita chips and carrot sticks are the usual sidekicks to hummus, but we like to live it up and eat ours with corn chips. Specifically, we love this roasted beet hummus with Pipcorn Truffle Heirloom Corn Dippers.
First of all, the color. We didn't think it was possible to achieve such a lovely shade of pink without food dyes. It's truly a feast for the eyes. And then there's the flavor. The deliciously earthy flavor of beets, tahini and chickpeas combine into something magical with just a few pulses of the food processor. Paired with savory Truffle Heirloom Corn Dippers, this is a hummus worthy of both packed lunches and parties.
Roasted Beet Hummus with Truffle Heirloom Corn Dippers
Ingredients
1 (15.5 ounce) can chickpeas, rinsed and drained
2 tablespoons tahini
3 teaspoons olive oil, divided
2 cloves garlic, crushed
Juice from 1 lemon
1 large roasted beet, diced
Sea salt and freshly ground black pepper to taste
1 bag Pipcorn Truffle Heirloom Corn Dippers
Directions
1. In a food processor, combine chickpeas, tahini, 2 tablespoons of the olive oil, garlic, lemon juice, beet, salt and pepper. Pulse until hummus is smooth.
2. Transfer hummus to small serving dish. Just before serving, drizzle with remaining teaspoon of olive oil and sprinkle with more salt.
3. Serve with Pipcorn Truffle Heirloom Corn Dippers and enjoy! Store up to one week in the fridge.