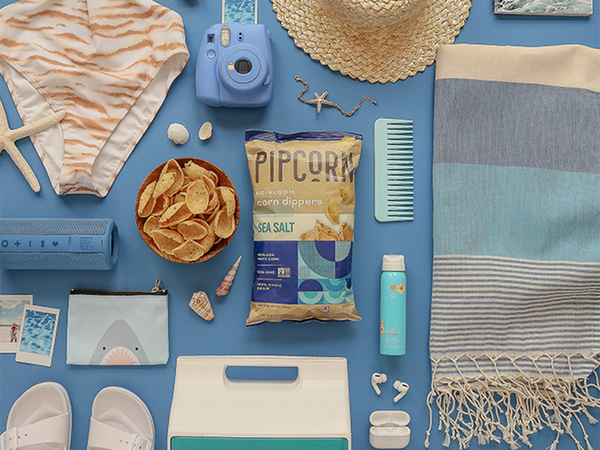 The Best Snacks to Eat (and Things to Do) at the Beach
Summer may be half over, but that only means you've still got half a summer's worth of fun left to go!  For us, that means one thing...get in as many beach days as possible! Relaxing on the sand with a cool drink and some delicious snacks—what could be better? Here's how our simple agenda for a perfect day at the seaside.


1. Swim!
And by swim, we totally mean splash around in the waves. If there isn't sand in your swimsuit, you're not doing it right!
2. Chill with snacks.
You know what goes great with the fresh salt air? Sea Salt Corn Dippers! And Truffle and Lime Zest Corn Dippers, for that matter!
They remind you of beach days as a kid where swim breaks, game sides and before dinner snacks were filled with corn chips and salsa! 
Made with better ingredients, like heirloom corn, than the ones we grew up eating, they've got all the crunchy, salty, goodness you'll crave after working up an appetite in the water. 
3. Play beach games.
Slather on the sunscreen and bust out the volleyball! Or play cards like rummy, Go Fish, hearts, or Uno! Only rule? Keep the game easy, friendly and chill. Live that beach life 😎✌️. 
4. Read a book.
After an hour of so of activity, it's time to chill again. Preferably with a book that's breezy and not too serious. Celebrity-gossip magazines are also encouraged.
5. Watch the sunset.
Watching the sun set is a peaceful way to end a relaxing day at the beach. Save some corn dippers to munch while you take in the view!